37th Annual General Meeting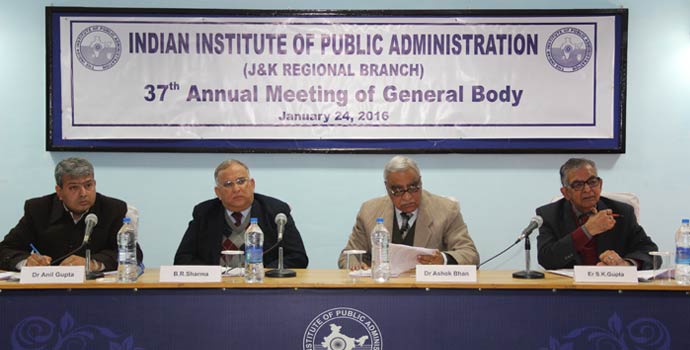 Dr Ashok Bhan will be the Patron and Shri B.R.Sharma, IAS was re elected as Chairman of the Branch for the period 2016-18 during the 37th Annual General Meeting of the Jammu and Kashmir Regional Branch of IIPA was held yesterday in Jammu.
Shri B.R.Sharma, IAS Chairman in his address said that the branch can take a lead role in undertaking collaborative work with the state government which can help in achieving the objectives of the branch. Dr. Ashok Bhan in his address emphasized on grooming the young talent which can bring in new ideas which are relevant according to the current times.
The annual report was presented by Dr Anil Gupta, Joint Secretary and the report on the annual accounts was presented by Er S.K.Gupta, Hony Treasurer which were followed by discussion. The members complimented the outgoing Executive Committee for record number of quality programs conducted during 2015.
The other office bearers elected for the period 2016 – 18 were Dr C.M.Seth, Vice Chairman (Jammu), A.M.Watali, IPS (Retd.) Vice Chairman (Kashmir), Dr G.N.Qasba Vice Chairman (Central), Er JBS Johar as Hony Secretary, Dr Anil Gupta Joint Secretary (Jammu) and G.M.Andrabi Joint Secretary (Kashmir) Vikrant Kuthiala as Hony Treasurer, Prof Alka Sharma as Director Seminars and Prof S.M.Afzal Qadiri, Joint Director Seminars (Kashmir) and Dr Komal Nagar as Joint Director Seminars (Jammu). Er. V N Sharma was the presiding officer during the conduct of the elections. Dr. Komal Nagar conducted the proceedings and Dr. C M Seth presented the formal vote of thanks.
The 15 member Executive Committee will include T.P.Singh, Chander Gulhati, Er Vikram Gour, Er B.K.Suri, Er V.N.Sharma, Prof Rekha Choudhary, Prof Mehraj-u-din, Prof Neelu Rohmetra, K.B.Jandial, IAS (Retd.), Er S.K.Gupta, Farooq Ahmad, IPS (Retd.), Sameer Rekhi, KPS, Randheer Singh, KPS, Ashok Sharma, KPS and Narinder Khajuria, KAS.